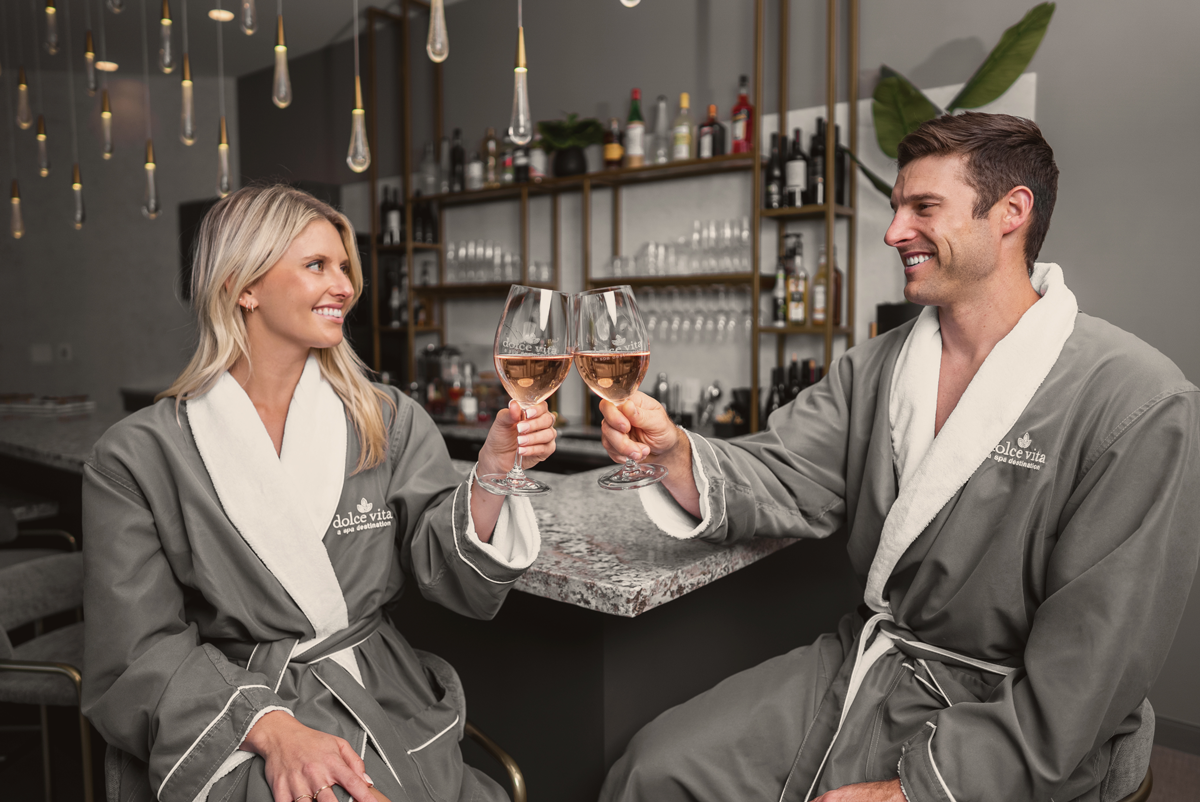 stylish spa cocktails – reno news & review
Dolce Vita spa is a short walk across the Village at Rancharrah from Mari Chuy's Tequileria y Botanas. If you book a treatment or buy a day pass, you can visit Nourish Bar, which combines a bar, a lounge, and a terrace looking onto the pond and mansion clubhouse of the Rancharrah development.
Nourish might be part of a wellness spa, but forget the bitter torture of wheatgrass. The menu incorporates not only matcha lemonade and superfood smoothies (vegan proteins, nondairy milks), but also lattes, wines by the glass and bottle, and more than a dozen cocktails made with traditional spirits and mixers, and with ingredients like carrot juice and turmeric.
"We wanted to give our guests the whole experience, along with a healthful flair. It's a balance of health and indulgence," said Debby Bullentini, Dolce Vita's business development manager and a longtime Reno beverage professional who created the menu at Nourish.
have another glass
Bullentini, many folks will remember, owned the much-missed L'Uva Bella Wine Gallery, so the small wine list at Nourish is thoughtful and nicely edited.
Like a Fossil Point rosé of grenache from Edna Valley, Calif.—"I love the dryness of it," Bullentini said. "It has a great rhubarb flavor." Or a BonAnno cabernet sauvignon from Napa Valley, a Napa cab being obligatory on any Reno wine list.
"There's a little fruit, but it is not a fruit bomb," Bullentini said. "It has a great finish. I did not want to have an astronomically priced Napa cab so that people will have a second glass if they love it." (Price: $15 a glass and a very fair $45 a bottle.)
cocktail creativity; bites and bites
Flip the menu card over from the wine to find the cocktails. For a gin blossom, a chilled coupe is rinsed in rose water before receiving a stir of Empress gin, at once light and full, and lavender syrup.
The lunar eclipse, possibly the best drink on the list, unites local Tahoe Blue Vodka, turmeric syrup, honey tea bitters and citrus. The garnish: a purple carrot drizzled with local honey. On paper, the drink sounds a bit baroque, but on the palate, it works beautifully, without a hint of the carrot juice rawness that would disrupt a cocktail.
Nourish also serves what the menu dubs "bites and boxes": hummus and vegetables, açai bowls, shareable charcuterie, chocolate truffles, muffins and scones.
Barn-style doors with translucent faux wood inlays mark the entrance to Nourish. Teardrop fixtures hang above the bar. A digital fireplace anchors one end of the lounge punctuated with ti plants, potted sea grass and framed wood cores. Ceilings soar to nearly 14 feet. In good weather, the terrace waits for al fresco sipping.
Johnathan L. Wright is the food and drink writer for Reno News & Review. Follow him on Twitter at @ItsJLW or on Facebook personally or at @FoodNevada. Sign up here for the Reno News & Review free weekly newsletter highlighting our most recent stories.