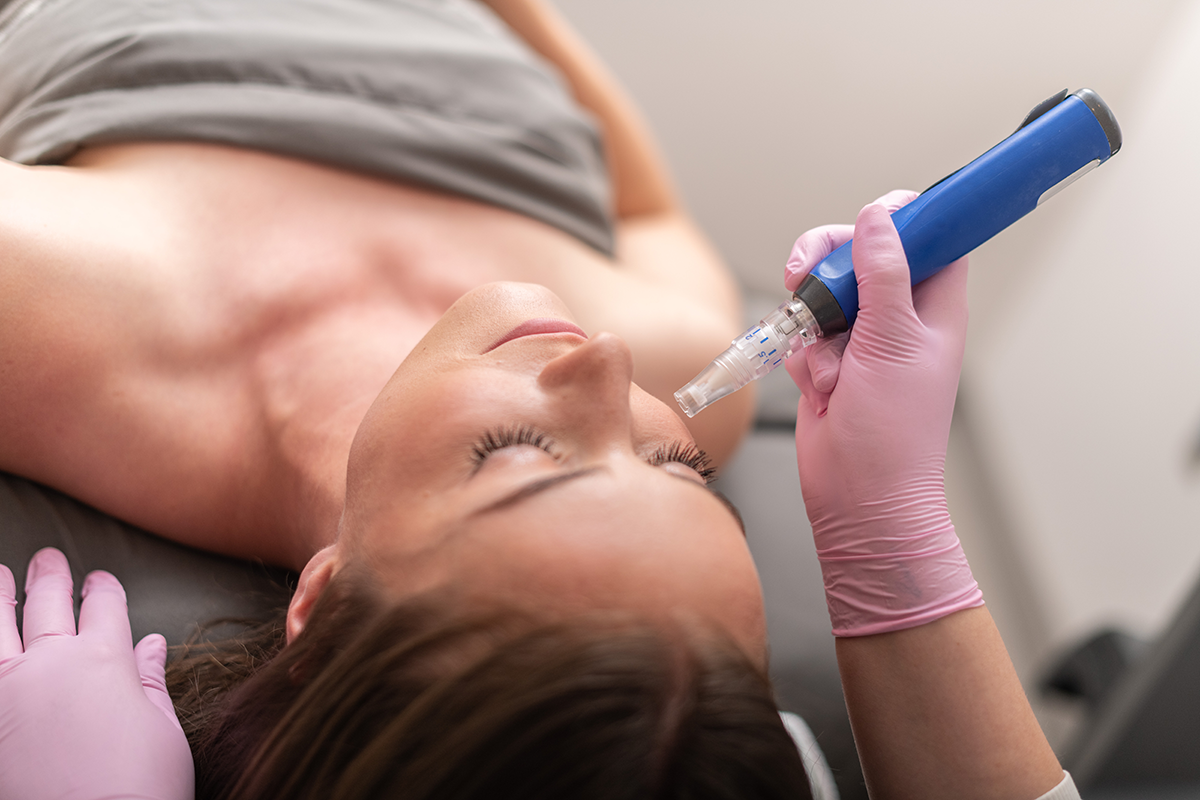 MICRONEEDLING
RF Microneedling in Reno, NV
At Dolce Vita Medical Spa in Reno, NV, our goal is to help patients achieve better skin and eliminate the imperfections that detract from their appearance and confidence. One of the ways we do that is with our microneedling treatments. These non-surgical treatments naturally stimulate collagen production, which is the key to getting anti-aging results. We offer the traditional version of this treatment and RF microneedling, a version that combines needling techniques with radiofrequency energy for even more collagen growth.
We're all for the smiles and laughter that cause your lines, but we're here to help relieve the less welcome side effects. From forehead creases to crow's feet, we can smooth your skin with personalized treatment for a rejuvenated, youthful complexion – and natural confidence.
 If you're tired of covering up signs of uneven skin and scarring, Microneedling can help to restore skin health and provide renewal and regeneration.
The tone and texture of your skin makes a big difference in the overall youthfulness of your skin. Microneedling causes the skin to produce collagen and other powerful healing factors that help to even out skin and provide a more consistent tone.
Also known as collagen induction therapy, microneedling is a treatment that uses hair-thin, adjustable needles to create tiny injuries in the skin, which forces a healing response from the body. The body responds to these injuries, which are invisible to the naked eye, with an immune reaction that cleanses and disinfects the treatment area in the short term and, in the long term, significantly increases collagen production to heal and repair the skin. There are two types of microneedling: the traditional version and RF microneedling. Each can radically transform the skin, eliminate the most common imperfections, delay and reverse the aging process, and improve overall skin health.
What Are the Treatment Benefits?
Patients who want better skin but don't want to undergo an invasive treatment can benefit from a microneedling treatment plan. Both versions of this treatment can transform the skin without social downtime. Other treatment benefits include the following:
Treatments improve skin absorbency, which makes topical products work better
Treatments are completely customizable and combinable
There's no social downtime after a treatment
We ensure that patients maintain optimal comfort during their sessions
Repeat treatments can stimulate collagen production long-term
Results are visible within the first few weeks of treatment
We offer two types of treatments to meet our patients' needs
SkinPen® Microneedling
We offer traditional microneedling with the SkinPen®. This device is known for its effectiveness, efficiency, and safety. It delivers a sterile and uniform treatment, as the device is equipped with single-use needle cartridges that create microchannels at 1600 per second. Before the treatment, we apply a topical numbing cream to the skin to ensure patients don't feel the needles as they perforate the skin's surface. Then, we use the device to create thousands of microchannels all across the treatment area. We can apply topical anti-aging serums during the treatment to take advantage of the skin's increased absorbency and enhance the results.
What It Treats
SkinPen® can treat lines and wrinkles on the face and neck and is also an effective option for those with acne scars. It improves skin elasticity, shrinks the pores, diminishes stretch marks, treats age spots, lightens discoloration, and increases natural collagen and elastin production.
Secret™ RF Microneedling
RF microneedling is a treatment that uses a device equipped with microneedles that deliver radiofrequency energy into the deeper layers of the skin. We use the Secret™ RF device to perform our RF microneedling treatments. The Secret™ RF device is customizable, and not only can we adjust the needle depth, but we can also adjust the amount of radiofrequency energy we deliver into the skin to maximize collagen production.
We can apply a topical anti-aging serum during the treatment to maximize the results and take advantage of the skin's increased absorption rate, just like our SkinPen® treatments. Before we begin a Secret™ RF treatment, we will apply a topical numbing cream to your skin. Within approximately 30 minutes, your skin will become numb, and we can begin the treatment process.
What It Treats
Secret™ RF treatments can improve the appearance of acne scars and general scars, sun damage, stretch marks, and the most common signs of aging. It improves skin quality, enhances skin texture, and improves the overall appearance of the skin. It can also shrink large pores and reverse sun damage.
Results will vary per person. Please book your complimentary consultation for Botox in Reno so we can answer your specific questions and provide a customized treatment plan. 
Our microneedling treatments are as effective as standalone treatments, but we can improve the results with add-on options. Both SkinPen® and Secret™ RF create tiny injuries on the surface of the skin. These injuries, or microchannels, are pathways into the skin's deeper layers.
After the treatment, your skin will be covered with tiny microchannels or perforations, and as a result, you'll have an increased absorbency rate, meaning whatever is applied topically, during or after the treatment, will better absorb into the skin layers.
Taking Advantage of the Skin's Increased Absorbency Rate
Not only is it critical that you take advantage of your skin's increased absorbency rate, but you also need to use the right products to ensure the best results. We offer topical add-ons that will create positive changes in your skin and help you achieve your desired results even faster.
Our topical serums contain exosomes, anti-aging cellular messengers that promote skin transformation, cellular renewal, cellular repair, and more. We can give you more details about these add-ons at your initial consultation.
Combination Treatments
Our combination treatments allow patients to address multiple skin conditions simultaneously. These treatment options benefit patients who want all the benefits of microneedling plus the benefits of a laser treatment that can naturally resurface and rejuvenate the skin for visibly glowing, younger, looking, and healthier skin.
Total Skin Level 1
Total Skin Level 1 combines SkinPen® with LaseMD Ultra™. This treatment stimulates natural collagen production and resurfaces the skin to improve skin texture and further enhance cellular regeneration. The LaseMD Ultra™ device uses a non-ablative fractional laser to target the most common skin concerns, treat sun damage, soften lines and wrinkles, reduce acne, reduce the appearance of acne scars, and treat melasma.
Total Skin Level 2
Total Skin Level 2 combines Secret™ RF with LaseMD Ultra™. With this treatment, you'll benefit from needling techniques, radiofrequency energy, non-ablative fractional laser energy, and skin resurfacing techniques. These methods will work together to increase natural collagen production, speed cellular regeneration and renewal, improve skin texture and tone, treat lines and wrinkles, improve skin laxity, and brighten the skin by eliminating melasma.
Am I a Good Candidate?
Patients looking for a non-surgical treatment that can resurface and rejuvenate their skin, reverse aging, and promote skin health make good candidates for microneedling treatments. Most patients qualify as good candidates since the treatments are minimally invasive and don't use harsh chemicals to produce results.
Some patients may not qualify for safety reasons, including those with an active skin infection or active acne in the planned treatment area. These needling devices penetrate and perforate the skin, and in the case of an active skin infection or acne, there is a high risk of spreading bacteria throughout the entire skin, resulting in adverse and unwanted effects.
Rejuvenate Your Skin and Increase Natural Collagen Production
Collagen is the key to youthful skin, so if you want to reduce the appearance of lines and wrinkles and achieve a healthier, vibrant complexion, we can design a treatment plan with one of our needling devices to help you achieve your skincare goals. After just one treatment, you'll notice tighter, glowing skin, a more uniform complexion, and a visible reduction in lines, wrinkles, acne, scars, and more.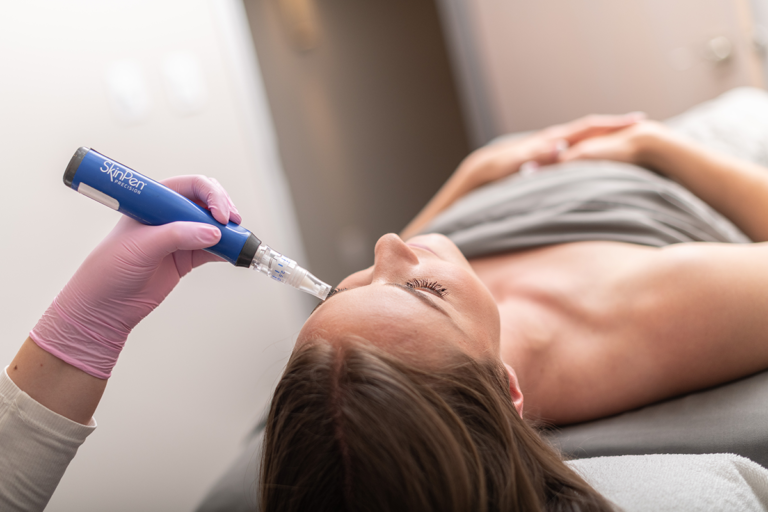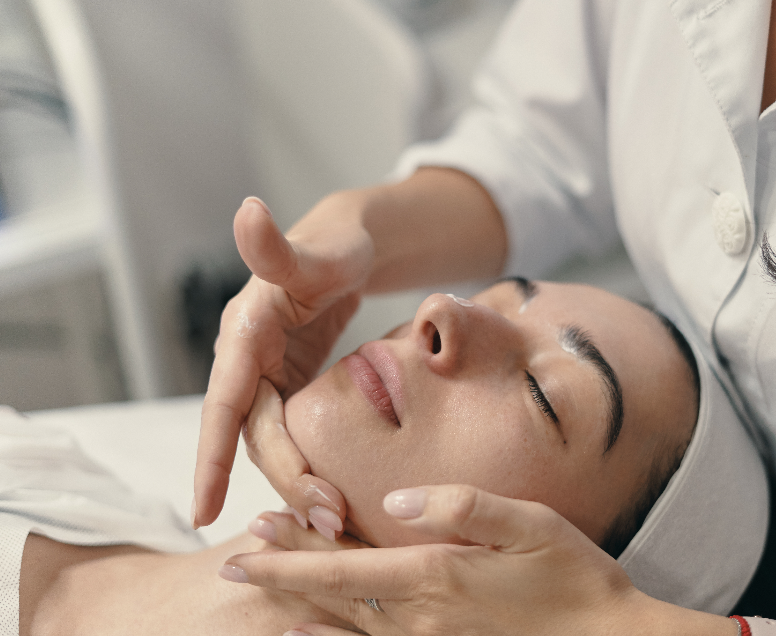 become a dolce vita member