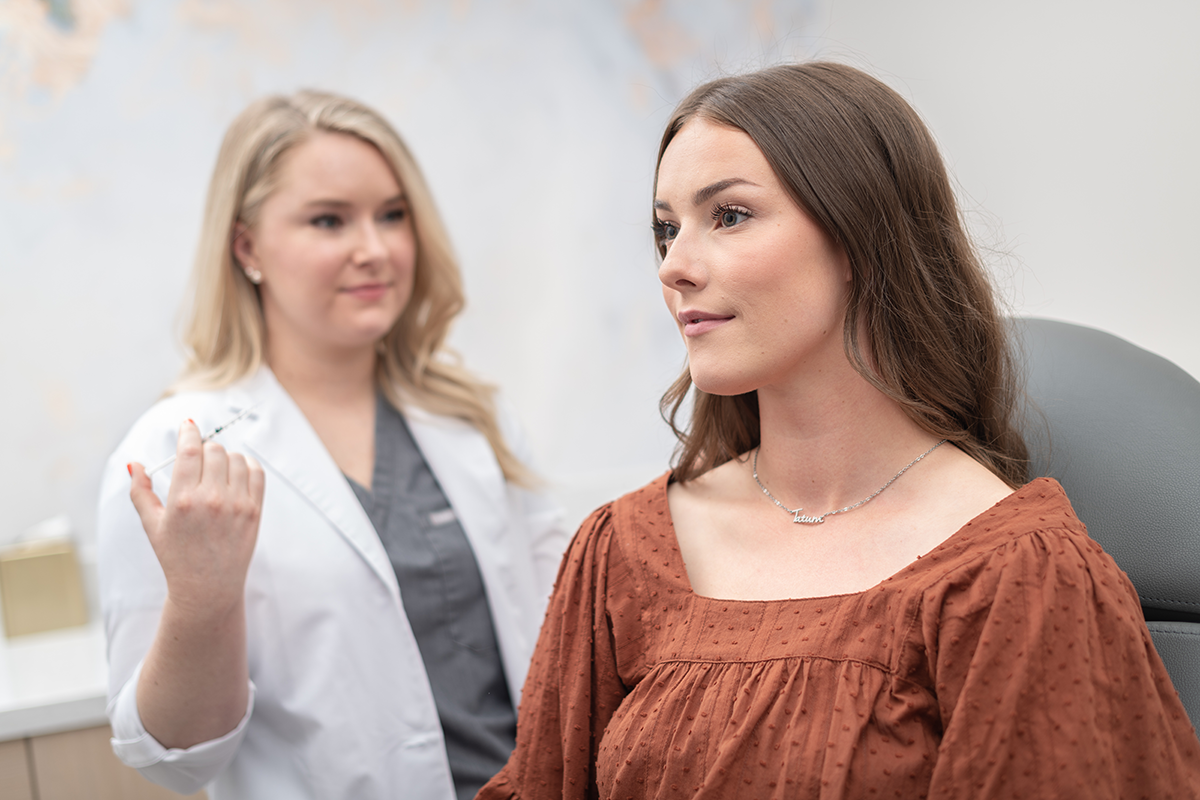 INJECTABLES
Neuromodulators in Reno, NV
Dynamic wrinkles are the expression lines that appear on the upper half of the face from repetitive muscular movements over your lifetime. If you have dynamic wrinkles, you know just how difficult they are to treat, but we have a solution. At Dolce Vita Medical Spa in Reno, NV, we offer the most popular, safe, and effective neuromodulators to eliminate expression lines and restore smooth, youthful-looking skin.
We're all for the smiles and laughter that cause your lines, but we're here to help relieve the less welcome side effects. From forehead creases to crow's feet, we can smooth your skin with personalized treatment for a rejuvenated, youthful complexion – and natural confidence.
Put your best face forward! Our expert cosmetic team gently and naturally shape the face for a more youthful, lifted look – no invasive surgery or downtime required. Restore the contours of your brows, nose, cheeks and jawline for your most impressive first impression.
Botox can help prevent wrinkles and fine line because of the relaxing effect it has on the muscles that can crease the skin. Prevent fine wrinkles from deepening or proactively treat areas most prone to signs of aging.
Results will vary per person. Please book your complimentary consultation for Botox in Reno so we can answer your specific questions and provide a customized treatment plan. 
What Are Neuromodulators?
Neuromodulators are anti-aging injectables that address expression lines at their source: the muscular level. They contain neurotoxins, which work by blocking communication between the muscles, nerve signals, and the brain. After an injection, the muscles relax, and the skin can rest since it's no longer forced into repetitive expressions on a daily basis. These anti-aging injectables are fitted with a very thin and small needle, and the treatment process takes approximately 15 minutes from start to finish. Treatments are virtually painless, but we can apply numbing cream if needed before your treatment. Patients can expect results within five to ten days of treatment, which will last three to six months. Regular treatments can extend the results long-term so you can enjoy living wrinkle-free.
What Are the Treatment Benefits?
If you've tried different professional skin care treatments and products to soften or eliminate your expression lines but have been unsuccessful, you're not alone. Expression lines are very difficult to treat, and once they appear, they only worsen over time. You'll keep making expressions, and the skin will continue to thin due to the natural aging process. Neuromodulators can change that, giving your skin a chance to rest so you can live wrinkle-free. Some of the treatment benefits include the following:
Each patient receives a customized treatment plan
Neuromodulators can be combined with other anti-aging injectables for comprehensive results
There's no social downtime post-treatment
Treatments are quick and virtually painless
Results are long-lasting
Maintenance treatment can extend results
Treatments are safe, and the products are FDA-approved
BOTOX®
BOTOX® is the most popular neuromodulator that has been in use for over 20 years. It can treat expression lines on the forehead, at the outer corners of the eyes, and between the eyebrows. We can also use it to gently and naturally contour the face to create a youthful and lifted appearance without surgical techniques or downtime. It can naturally contour the brows, cheeks, nose, and jawline. It's also an effective preventative treatment for patients who want to delay aging and prevent fine lines from deepening and worsening.
Medical Treatment Plans
We also offer medical treatment plans with BOTOX® to treat muscular-related conditions. We offer BOTOX® for TMJ, a condition that results in tense jaw muscles. Injections into the muscles around the jaw will relax the area, temporarily decreasing pain. We can also inject BOTOX® into the trapezius muscles, which can become inflamed or enlarged due to overuse or poor posture. BOTOX® can temporarily alleviate the symptoms of these medical conditions and help patients experience an improved quality of life.
Dysport®
Dysport® is another cosmetic injectable designed to treat dynamic wrinkles, specifically the frown lines that form between the eyebrows that can cause an aged or angry-looking appearance. Injections into muscles around the eyebrows will relax the area, softening and even eliminating frown lines. After an initial treatment, results appear within the first two to three days and can last up to five months.
Jeuveau®
Jeuveau® is a frown line treatment that uses neurotoxins to temporarily treat frown lines between the eyebrows. Results can become evident as early as two days post-treatment, and the best results will be visible within the first 30 days. Results can last three to four months, and repeat treatments every few months can ensure that you enjoy your frown-line-free results long-term.
DAXXIFY®
DAXXIFY® is a neuromodulator that's unique in that it's powered by peptides to ensure natural and long-lasting results. Its active ingredient is similar to our other neuromodulators, but what makes it different is that it also contains a novel peptide that acts as a stabilizer, free of human or animal products. Results can last six to nine months after an initial treatment.
Frequently Asked Questions
Which Neuromodulator Is Right for Me?
We offer several neuromodulators, so at first glance, it may feel overwhelming to determine which is right for you. The good news is, you don't have to. At your initial consultation, we can evaluate your desired treatment areas and then ask you some questions about your medical history and treatment goals to determine which product is right for you.
Then, we'll design your treatment plan with the right product and dosage to naturally smooth away your expression lines and improve your overall appearance.
How Many Treatments Will I Need?
Most patients only need one treatment to achieve their desired results. Once we evaluate your problem areas in person, we can give you a better idea of what your specific treatment plan will look like.
How Long Will My Results Last?
Based on the product we use during treatment, your results may last three to six months or longer. The length of your results ultimately depends on how quickly your body metabolizes the product administered during treatment.
Each patient responds differently to the treatment. Once you undergo treatment, you can monitor your results, and when they wear off, you'll have a better idea of how quickly your body metabolizes the product. Once you see a change in your results, you can call our office and schedule a follow-up treatment. With the right treatment plan, you can maintain a wrinkle-free appearance long-term.
Will I Look Natural?
You can trust our skilled injectors to deliver safe and effective treatment and natural-looking results. Our goal is to subtly treat expression lines and restore a youthful appearance without making you look frozen, fake, or like a different person. Our injectors have the skill, experience, and precision to carefully administer the right product based on your needs and specific expression lines.
Am I a Good Candidate for This Treatment?
The best candidates for neuromodulators are patients in good health who have realistic expectations about the treatment process. Patients must not be allergic to any of the ingredients in the injectable. Pregnant and nursing women do not qualify for treatment due to safety reasons. An initial consultation with an experienced injector will confirm if one or more of these products is a safe and effective choice for you.
Results will vary per person. Please book your complimentary consultation for Botox in Reno so we can answer your specific questions and provide a customized treatment plan. 
Say Goodbye to Your Expression Lines
You don't have to waste more money on expensive anti-aging products or other skincare treatments to eliminate your expression lines. With a customized neuromodulator treatment plan, we can help you live wrinkle-free and enjoy your results long-term, and after a quick and virtually painless treatment, you can enjoy smoother and younger-looking skin.
become a dolce vita member