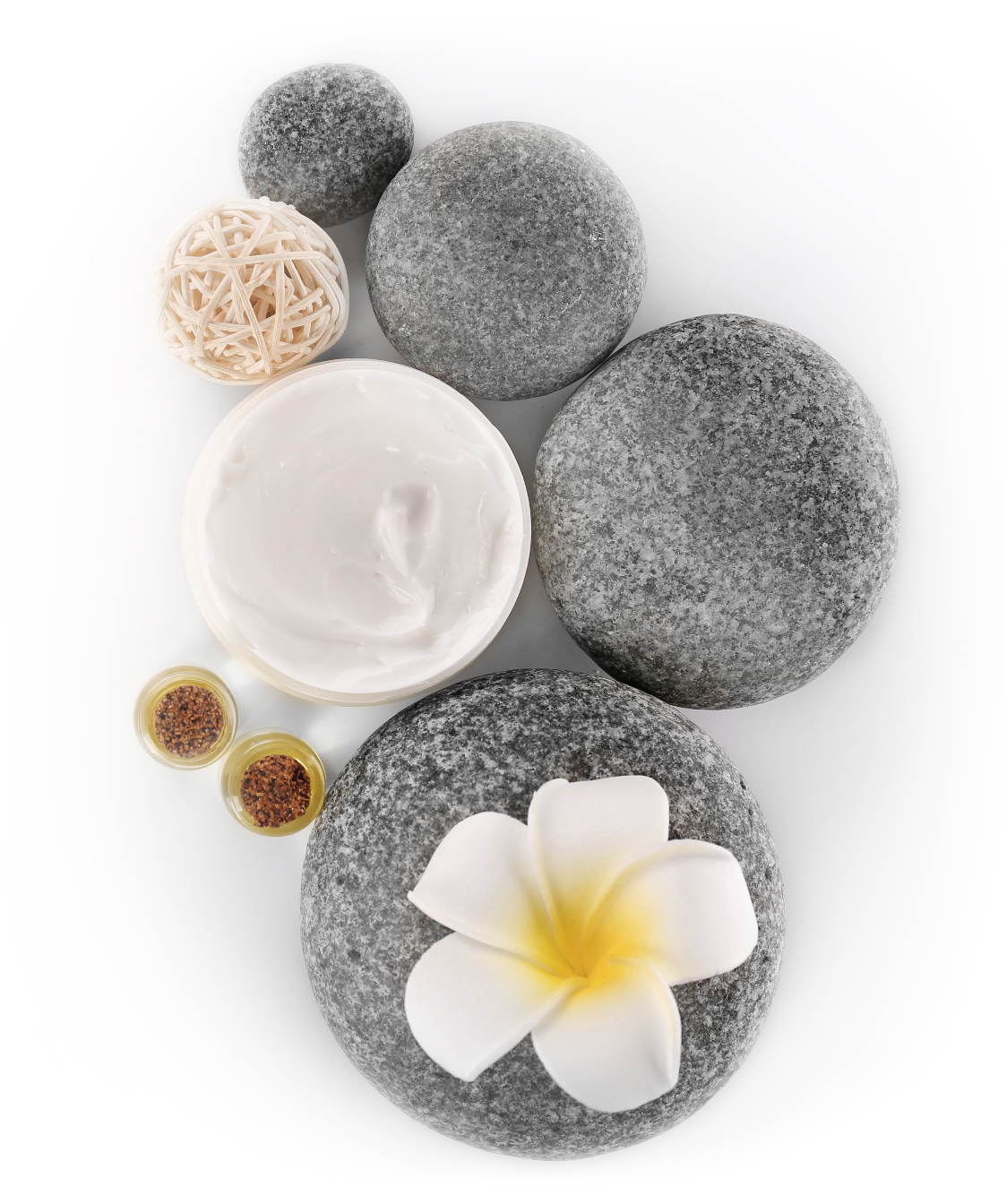 How to spa
maximize your spa experience
Below you will find some helpful tips and spa etiquette to follow that will help to maximize you experience at Dolce Vita. Remember that the spa is a place to rest, renew and reconnect with yourself. We recommend leaving your phone and virtual worries behind.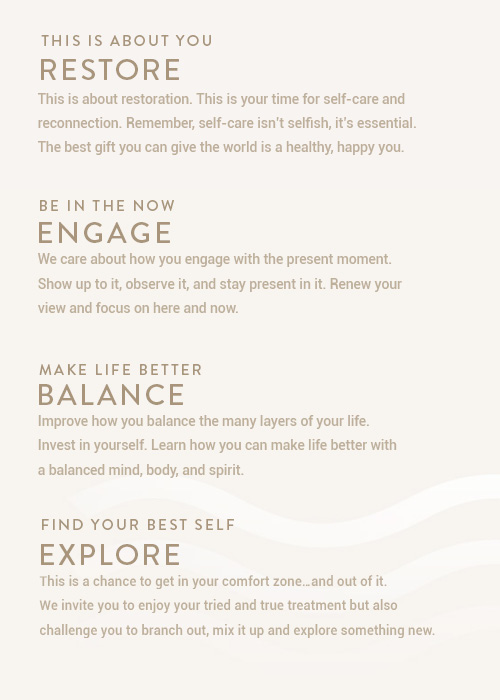 individual wellness
reconnect, recoup, recover
Allow yourself to be the center of an immersive retreat designed for transformation. Balancing every aspect of health, Dolce Vita aims to manifest your wellness, and beauty goals through uniquely tailored treatments, experiences, and nourishment for the mind, body and soul. Dolce Vita is tailored to provide guests with an exceptional personal experience. Enjoy your time with us, and relax.
Read through our frequently asked questions.
Cancellations
If you find you need to reschedule or cancel your appointment you can do so up until 8 p.m. the night before your scheduled appointment for no charge. For any appointments canceled or rescheduled past 8 p.m. the night prior to your scheduled appointment, Dolce Vita will charge a 50% fee to the card on file, or deduct from a gift card. Late arrivals will be charged for the entirety of their scheduled visit. Failure to show up for your appointment will result in a 100% charge of the reserved service amount, or a prepaid member service will be redeemed for the missed appointment.
Reservations
To hold a reservation, you must provide a valid credit card number, or gift certificate number. Dolce Vita will not charge your card unless you miss your appointment, at which time you will be charged the full treatment price.
Confirmations
For your convenience, we offer you the option to have your appointments confirmed through e-mail or text messaging.
Pricing
We are constantly expanding our services to bring you the latest and greatest. Although we make every effort to keep our website and spa menu updated, please note that prices and services are subject to change at any time.
We love having you as a client, but we do reserve the right to refuse service at any time, to anyone, for any reason.
Children
Due to liability reasons and to ensure a relaxing experience for all of our clients, we do not allow children under the age of 12 to accompany parents to spa or salon appointments. We understand that childcare is not always available and will be more than happy to reschedule an appointment to a time that meets your needs. We do provide spa services for children between the ages of 12-17, however the parent/guardian must provide written consent before any services commence.
Gratuity
As a Spa Guest, we know you want to show appreciation for the quality service provided by Dolce Vita practitioners. Customary gratuities average between 15-20 percent of the treatment price, but we always respect your tipping decisions. You may give your therapist a tip in cash or by credit card at the front desk at check out.
Payments & Return Policy
Dolce Vita accepts MasterCard, Visa, Discover and cash. Unused and unopened items may be returned within 30 days of the original purchase for a full refund. If you are not satisfied with the merchandise that you have purchased, you may receive a spa credit within 15 days of purchase. However, we cannot issue credit for merchandise that has been depleted by 25% or more. Gift certificates may not be redeemed for cash. We accept SpaFinder and SpaWish gift certificates.u the option to have your appointments confirmed through e-mail or text messaging.
Specials
Specials are not valid in combination with other discounts, offers or coupons. Gift cards may not be purchased or used in conjunction with any special offer, discount or coupon. Other restrictions may apply.
Late Arrival
Please arrive 30 minutes before your appointment. Arriving early allows you to transition from the outside world to the tranquility of Dolce Vita. You may also fill out paperwork and change into a robe and slippers provided prior to your treatment. Arriving late will deprive you of valuable service time. As a courtesy to the next guest, your treatment will end at the time originally scheduled. Late arrivals may be rescheduled, or the remainder of the service time may be used at full price.
Dress Code
Clients who have reserved a massage, facial, or body treatment will receive a locker, robe and slippers when they arrive at Dolce Vita. As you change into your robe, dress to your comfort level. During a massage treatment, our therapists drape you to protect your privacy, so being completely undressed is appropriate. If you feel more comfortable wearing undergarments for your massage, please feel free to do so. If your treatment involves spray tanning or waxing treatments, Dolce Vita can also provide disposable underwear.
Valuables
Dolce Vita is a tranquil retreat, and we want to create an atmosphere that allows all our clients to escape from the world outside. In consideration of others, please refrain from talking on your cell phone inside the spa or leave in your assigned locker. All cell phones must be in silent mode or turned off while at Dolce Vita.
Allergens & Maternity
When scheduling your treatment, please let us know if you have any physical ailments, medical conditions, or allergies. Our practitioners should also be notified if you are pregnant, have high blood pressure, a heart condition, or any other medical condition. Our staff will personalize your treatment to meet any special needs or accommodations you may require. Dolce Vita practitioners cannot work on clients with open wounds, abrasions, or other skin conditions. If you have any questions about a spa treatment and your health, please consult a doctor. We perform massage on expectant mothers who are in their second or third trimester.